Discover more from Generation Green New Deal Newsletter
Generation Green New Deal is a newsletter from the creators of the #GenGND Film & Podcast about the youth climate movement's efforts to pass a Green New Deal and solve the climate crisis.
"Seal the Deal" Day of Action
Join us today!
Hey there Green New Dealmakers,
Today we're joining hundreds of other organizations and thousands of other climate activists for the #SealTheDeal day of action.
August 2021 will mark the eighth month of a Democratic Congress and White House without meaningful federal climate legislation. Right now, Congress has a chance to deliver on their promise of climate action for the people.

This August, Congress is finalizing a big infrastructure deal – through a unique process called "budget reconciliation." That means Democrats in Congress have an opportunity to pass bold investment without being blocked by Republicans. Let's do it!

The Senate has kicked off the process by passing a budget resolution with a ceiling of $3.5T of investment. Now is the time to tell our Members of Congress that 1) we want to see them fight to invest every dollar in the people – no cuts! and 2) we need them to protect investments in climate solutions, care, jobs, and justice.

We call on Congress to #SealTheDeal for climate, care, jobs and justice.

If we don't move quickly, we'll lose this opportunity and abandon the possibility of comprehensive federal climate action in the United States for another generation. With increasing devastation from the impacts of climate change, our environment, our planet, and people who live in frontline communities will not survive that delay.
Go to http://sealthedeal2021.com/ for more info, and listen to our pal—the Green New Dealmaker himself—Senator Ed Markey, about why today's actions are so important!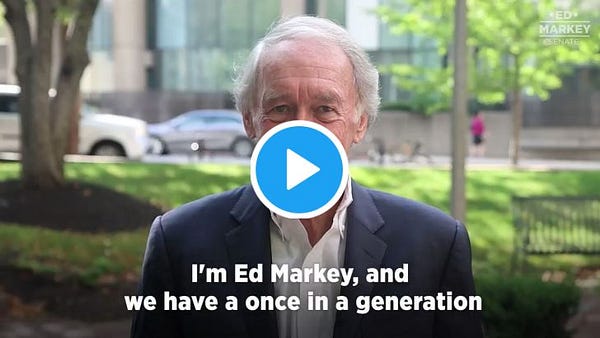 Our friends at the Green New Deal Network have put together this handy resource hub for the day, where you can find actions in your area, a social media toolkit with useful and beautiful graphics, and more information about what's at stake!
---
Today is also the first day of Jewish-climate organization Dayenu's #HearTheCall actions, where they'll be symbolically blowing the Shofar at politician's offices, and rallies, demanding climate action, around the country over the next month.
(Stay tuned for a #HearTheCall wrap-up video from us!)
---
Formosa Plastics Was Just Handed a BIG L…
If you saw our "Generation on Fire" videos with Sunrise Movement, you might remember meeting the incredible frontline activists from RISE St. James, a faith-based environmental justice organization from St. James, LA. RISE was founded by Sharon Lavigne, a lifelong resident of St. James who has been leading the fight against Formosa Plastics' proposed $9 billion petrochemical complex in St. James for years.
We had the chance to spend the day with Sharon while we were down in the Gulf a few months ago, just after it had been announced that she was a 2021 recipient of the prestigious Goldman Environmental Prize for activism, and we were so inspired, and deeply moved, by her and her community. We asked if we could collaborate on some videos together, and a new one—produced in partnership with our friends at Fossil Free Media and Fight Fossils—was just released on social media last week.
In the video, Sharon gives a direct message to President Biden—asking him to come to St. James, see the petrochemical plants that surround them, and deliver on his campaign promise to deliver environmental justice to communities like St. James and the rest of 'Cancer Alley.' The video has been viewed across social media over 30,000 times—and it's been shared by Ben & Jerry's, Patagonia, Sunrise Movement, Greenpeace, Rainforest Action Network, the Years Project, and SO many other great organizations and activists who've come together to support the work of RISE St. James, and other frontline organizations like the Louisiana Bucket Brigade.
Yesterday, finally, there was a (partial) victory for the people of St James! The Army Corps of Engineers was ordered to conduct a full Environmental Impact Statement for the proposed Formosa Plant—this EIS could take years, and until it's done Formosa is stuck in limbo. It's a HUGE victory for the community of St. James. But, this plant isn't dead until the permit is revoked. So, the fight goes on—and it's our job to help elevate and support the frontline activists who are living this battle everyday in their communities.
But it's not just Formosa—and it's not just 'Cancer Alley'. There's stories like this one all across the country, and we're going to keep telling them until they are given the justice they deserve. Frontline communities have been most harmed by the evils of the fossil-fuel industry, and they should benefit most from our 'Just Transition' away from fossil fuels. Frameworks for climate solutions that center these communities, like the Green New Deal, must and will be our priority.
"Those who are closest to the problem are also closest to the solution."
—Glen E. Martin, Criminal justice reform advocate
---
Stop Line 3 With Winona LaDuke!
But wait, there's more!
We also just dropped a new EMERGENCY GenGND-conversation pod with legendary Indigenous organizer and Water Protector, Winona LaDuke.
Since helping to lead the fight at Standing Rock, Winona has been living in Northern Minnesota, now helping to lead the fight against the Line 3 Tar-Sands Pipeline. On our previous episode with Stop the Money Pipeline organizers Jackie Fielder and Alec Connon, we heard about how putting pressure on financial institutions to defund Line 3 helps to support the work of frontline activists. Now, hear from Winona about other ways you can support these courageous water-protectors.
Join the fight against the Line 3 pipeline now…
https://stopthemoneypipeline.com/line3/
---
Loose Ends & Looking Ahead…
We've been hard at work editing our "Generation on Fire" mini-doc over the last month. The short film documents Sunrise Movement's historic marches in the Spring and early Summer of 2021, where groups of young people in the Gulf South, California, and Pennsylvania marched hundreds of miles to demand their leaders support a robust civilian climate corps. You can watch all of the videos we made during the treks on our GenGND Instagram feed—and stay tuned for the full film in the Fall!
---
We've also got an exciting collaboration with our youth-climate-podcast-pals at INHERITED, coming very soon. We'll be taking a trip up to Maine, to meet the state's youngest Senator, Chloe Maxmin. Chloe is a climate champion who, as a State Rep. in 2018 introduced the first statewide Green New Deal bill in the nation. Now, as a State Senator, Chloe is leading the push for Maine to adopt the "Pinetree Amendment" to the state's constitution, which would guarantee Mainer's the right to a healthy environment with clean air and clean water. Stay tuned for that!
---
AND, stay tuned for another conversation episode of the pod, with the filmmaking team behind one of our favorite recent documentaries, INHABITANTS, the must-watch story of how traditional indigenous practices, like forest management, hold many of the climate solutions we're looking for.
---
Finally, it's been amazing to be back out on the road, working on the Generation Green New Deal documentary and the next season of the podcast. But, it's been a real grind—and we need your support to keep telling these stories, about this vital movement, at this critical moment.
Please consider becoming a patron on our Patreon account, so we can continue documenting the decade of the Green New Deal.
---